The Story of Our Practice's Unique Sign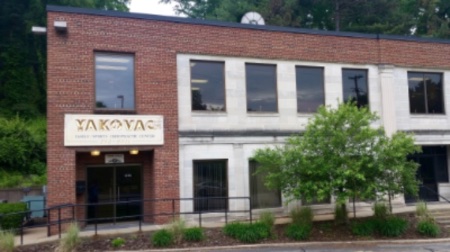 You've probably noticed the beautiful wooden sign with gold leaf lettering that sits atop the entrance to our building on Cochran Road. In addition to being a one-of-a-kind, handcrafted work of art, it's a unique reminder to Dr. Bob and his family of their many summertime visits to New England.
The sign comes from Nantucket Wood Carving, a business begun in 1992 by William Rowe,  who grew up along the shore of the Cape Cod Bay, was taught to carve by his father, and won the Ward Foundation World Carving Championship when he was only 16 years old.
On Nantucket, ordinances require that businesses display nothing but wooden placards in order to maintain the traditional 1800s look of the island. Rowe's business has thrived as a result.
The Yakovac Chiropractic Center sign, produced by Rowe at a cost of several thousand dollars, was made from wood recycled from a winery in New York State. Having been aged and cured, it is rot-proof and will last for generations to come.
Dr. Bob describes Mr. Rowe's work as "an old technique that has become a lost art." He's proud to share this piece of American heritage with the residents of Pittsburgh, and enjoys the beautiful reminder of his family's time enjoying the sea at Nantucket as he glances at the sign on his way into work each day.