Pittsburgh South Hills Chiropractor
Treatment Notice
As we move forward after the pandemic, I look forward to seeing you in the office for spinal care, exercise, and nutritional care. We are not hearing much about how we can boost our immunity so that if we do get exposed to any virus or bacteria, our body can effectively fight back. Dr. Yakovac wants to remind you that regular Chiropractic adjustments, vitamin supplementation, healthy eating, exercise, rest, and hydration can help reduce stress levels and keep your immune system strong.
Our office is practicing all necessary sanitary measures, including cleaning our equipment and tables after seeing each patient. We have installed MyTriad AerV3 air purifier since the beginning of the pandemic. My Triad Aer V3 sanitizes the air in my office 24/7 with activated ozone/oxygen and kills bacteria with UV light. For more information on My Triad Aer V3, you can click on the hyperlink for purchasing information. By using this link, you can receive $259 off the sale price. We also carry a personal air purifier from My Triad Aer in our office for use daily and while traveling. There is also a travel air purifier to use at work, hotel room, car, or RV.  If you have any questions concerning MyTriad Aer products, you can contact my office.
Dr Bob continues to wear a face shield when in contact with patients. You are not required to use a mask in the office unless you feel more comfortable wearing one while in our office. Dr. Bob and staff will wear a mask if the patient requests.
We look forward to seeing you soon!!
Regular Office Hours:
Monday: 7:00 am – 12:00pm and 2:00 pm – 7:00 pm
Tuesday: 10:00 am – 12:00pm and 2:00 pm – 5:00 pm
Wednesday: 7:00 am – 12:00pm and 2:00 pm – 7:00 pm
Thursday: Closed except for emergencies
Friday: 7:00 am – 12:00pm and 2:00 pm – 7:00 pm
Closed Saturday and Sunday except for emergencies
You can also contact my office and follow the prompts to contact me for emergencies.
(412) 563-8211
Dr. Bob and staff thank you for your confidence in choosing us for your health care needs.
Dr. Bob Welcomes You to Yakovac Family/Sports Chiropractic Center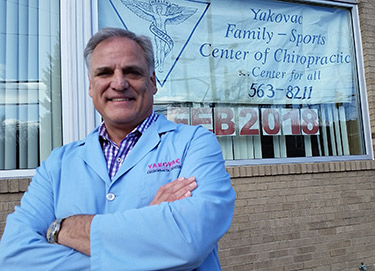 Pittsburgh Chiropractor Dr. Robert Yakovac offers high quality family wellness care, with special consideration given to athletes of every kind: weekend warriors, elite athletes and members of professional and local sports teams. He has had the privilege of working with everyone from the Pittsburgh Steelers and the Cincinnati Bearcats to the Pittsburgh Ballet Company and the cast and crew of Phantom of the Opera and Les Miserables.
Everyone Is an Athlete
We take a unique viewpoint with our patients, whether they're five days old or entering their golden years: we see you as an athlete. We all have moving parts and consistent, optimized mobility is vital. It is a part of our nature and our heritage. This is particularly true if we want to stay healthy and strong.
Our goal, with every patient that walks through our door, is to see you through that unique prism. No matter your current condition or state of health, our passion is to return you to a state of customized, personalized peak performance. We have been able to accomplish this with hundreds of patients before you, and we can do it for you, too.
Our Many Loves: Pediatric, Prenatal and Geriatric Chiropractic
We consider our office to be one of professionalism, with high treatment standards and unfailing integrity. We are also patient-centered, which means that our gentle and customized care is all about you.
We have a reputation for excellence in the treatment of expectant moms, helping them to experience the pregnancy and birth outcome of a healthy, vibrant child. We also welcome children of every age to help them get off to the best possible start in life, beginning with an aligned spine and a healthy nervous system. And our geriatric patients appreciate the specialized treatment protocols we use to not only increase their vitality and comfort, but to create a safe and gentle place for healing and recovery.
Our care is experienced and supportive. We work hard to gain your trust, and nothing makes us happier than to help the families in our area. It is our hope that patients refer to us as "the chiropractor near me that I would still travel a long distance to see!" Contact us today for an appointment. We are ready to help!