Pittsburgh Chiropractor :: Dr. Robert L. Yakovac
Celebrating 33 Years of Wellness Through Chiropractic and Nutrition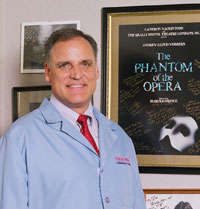 Robert L. Yakovac, D.C., aka Dr. Bob, has developed the Yakovac Family/Sports Chiropractic Center into a resource for all ages seeking to achieve the optimum health and performance possible through the unique application of a variety of chiropractic techniques and principles. Dr. Yakovac graduated from Monessen High School and earned his bachelor's degree in Business from Washington and Jefferson College. He then attended and received his Doctorate of Chiropractic (D.C.) from the noted Palmer College of Chiropractic in Davenport, Iowa.
Dr. Bob opened his practice in Mt. Lebanon, Pennsylvania in 1988. He is celebrating 31 years of Wellness through Chiropractic and Nutrition. Dr. Bob treats infants to geriatrics and amateur to professional athletes. He has special expertise in treating high school, collegiate, and professional athletes throughout South Hills Pittsburgh | Mt Lebanon.
"How Doctors of Chiropractic Help Extraordinary Athletes Accomplish Their Goals"
Dr. Bob has taken care of present and past professional football, hockey, and baseball players from the Pittsburgh Steelers, Pirates, and Penguins. Since 2001, Dr. Bob is the chiropractor for treating visiting Major League Baseball teams as appointed by C.E.P.A. (Care of Elite and Professional Athletes). In 2001, Dr. Yakovac was asked to establish and consult with the training staff for the University of Cincinnati Football Team. He would travel weekends to care for players on the University of Cincinnati Football Team from 2001 through the 2006 football season. Since 2007, Dr. Bob has been the consulting chiropractor for the University of Pittsburgh football team. Dr. Bob was an adjunct professor at Washington and Jefferson College in Washington, Pa. since 2004 to 2011. He developed and taught "7 Essentials of Wellness" at Washington and Jefferson College.
Dr. Bob has been involved with the Pittsburgh Ballet Company for 20 years. He also was a faculty member of the Pittsburgh Ballet School, where he established a Comprehensive Wellness Program. In the 90's, Dr. Bob was the principal chiropractor for the "Phantom of the Opera" cast and crew when they performed in Pittsburgh. He traveled to Toronto and New York to work on cast members for the "Phantom". He also has taken care of members of "Sesame Street Live" and "Les Misérables ".
Dr. Bob was one of the founding members of the Chiropractic/Medical Clinical Conference of the Allegheny General Hospital Back Pain Institute. The Allegheny Back Pain Institute sponsored conferences that would meet once a month and would publish a quarterly newsletter titled the "Backbone". Dr. Bob was honored as the Outstanding Member of the Spring Quarter in 1996. Dr. Bob was featured in the Journal of American Chiropractic Association, "How Doctors of Chiropractic Help Extraordinary Athletes Accomplish their Goals" in the June 1997 edition. In 2004, Dr. Bob was a guest presenter at the "Annual Joseph A. Gilmartin Pediatric Lectureship" held at Mercy Health System by the Pittsburgh Mercy Health System & Mercy Children's Medical Center. He presented "Pediatric Chiropractic Applications".
A Chiropractic Family for Wellness
Dr. Bob and his wife Tammy reside in Mt. Lebanon, Pa. and have two sons, Joel and Justin. Joel is married to Maggie Caruthers and resides in Columbus, Ohio with their triplets. Joel is Brokerage Executive Vice President and partner in the Industrial Group that works with Colliers International in commercial leasing and sales. Maggie works as a Real Estate agent for Coldwell Banker Home Sales. Justin resides in Denver, Colorado with his sons Brady and Theo. Justin is the West Regional Vice President for Stanely Healthcare.
Ready to make an appointment and start the path to wellness? Give our Pittsburgh chiropractic office a call today.
---
Dr. Bob Yakovac | Yakovac Family/Sports Chiropractic Center | (412) 563-8211